Christmas Community Dinner December 22, 2023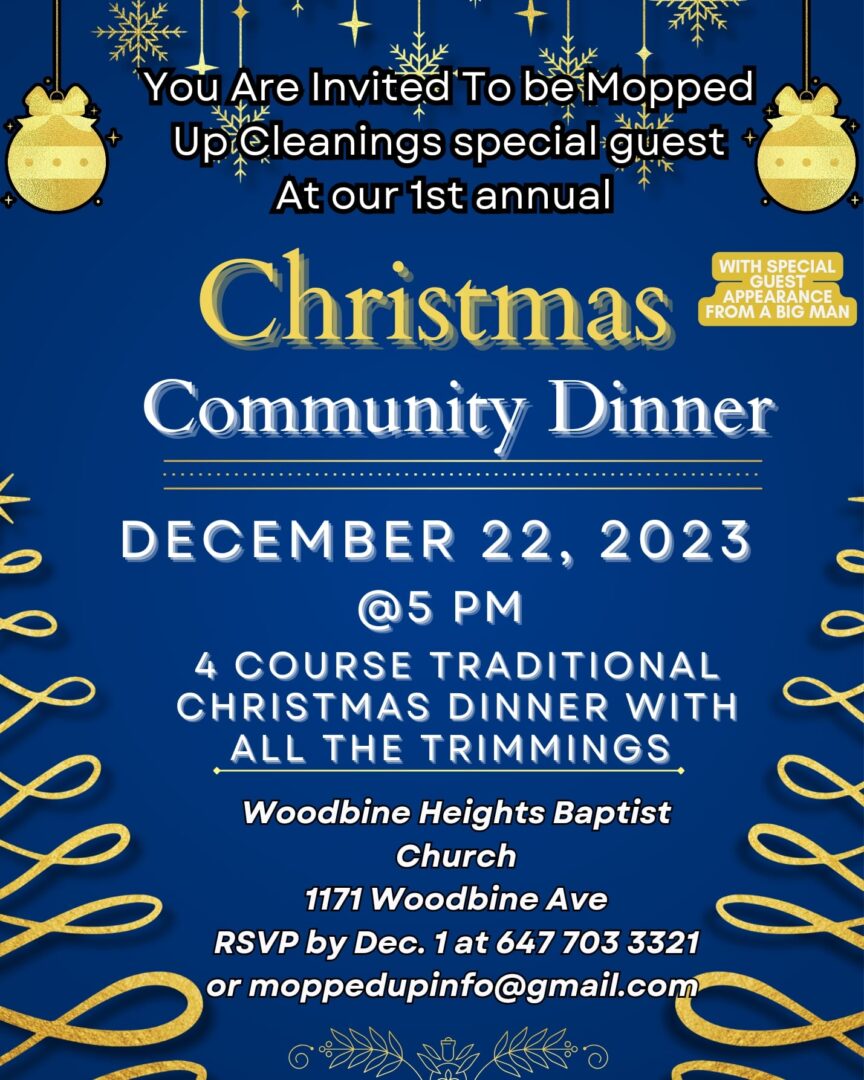 We can't hold on to this excitement anymore.. *drum roll!*🥁 We have decided to give back on a more personal level to our East York Community. What is better than a Christmas Dinner with the Mopped Up family?
We have partnered up with Woodbine Heights Baptist Church to host a Free Christmas dinner. Our target guests are those experiencing hard times and or anyone who is in need of some good company around the holidays.
The countdown has begun!
We would like to have Santa pop by and, with your help, present a new and unwrapped toy/gift card, which will significantly contribute to a successful event.
This will be Mopped Up's 6th year doing a Christmas Toy Drive, but first time hosting a Dinner 😁. We couldn't have made the impact we have each year without all your support ❤
Please see the attached flyer for the dinner information.
It is essential to know that this year is sadly no different than the previous, as we continue to see so many families and single households facing immense hardships due to various reasons.
We hope this Christmas Drive & Dinner can help make an impact that will help boost the good old East York community morale and help make it a year all of us can enjoy.**IMPORTANT*If you are interested in participating, please reply to this email as We will send another one with more details.
We are so excited for this year and confident we can beat our previous year's best – but we can't do it without you.
Thank you in advance for your generosity, as always ❤
Please consider this as an invitation to come and join us.
Kelly & Kristy